Miharu Hirano/Outfits
From Tekkenpedia
Tekken 4
[
edit
]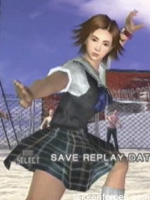 Having appeared in the game as the palette swap for Ling Xiaoyu, Miharu only has one outfit; her Mishima High School school outfit. It consists of a white top under a blue vest with a blue bow on her chest, along with a blue/green checkered skirt with blue panties underneath and white loose socks with brown shoes . She additionally wears a wristwatch with a leather strap on her left wrist .
Tekken Tag Tournament 2
[
edit
]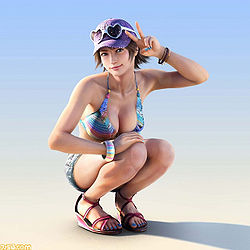 Miharu returns in Tekken Tag 2 with a new outfit. No longer wearing the school uniform, her outfit now comprises of a bikini top, denim short shorts with the button undone to show the bikini bottom matching the top as well as pink mid heeled wedge sandals. She wears a light purple hat with heart shaped glasses.