Lars Alexandersson/Outfits
From Tekkenpedia
His P1 outfit consists of the basic Tekken Force Armor with minor alterations. Aside from his pre-dominantly red armor, he has black pads on his chest, knees, shins, shoulders and arms. A significant difference with his armor in comparison to others is his cape as well as his armor having a lion crest on the upper chest, and Lars does not wear the helmet usually issued to Tekken Force members
His second outfit consists of red shoes, white pants, a dark grey jacket with a large white design on the top part and an extended collar, and red gloves.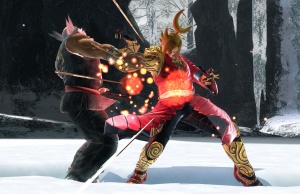 Lars has been given an extra costume for the console versions. It was designed by Masashi Kishimoto, a Japanese manga artist, well known for creating the manga series, Naruto. The costume was created for his appearance in the upcoming game, Naruto Shippuden: Ultimate Ninja Storm 2.
See Tekken 6 Player one outfit.
See Tekken 6 Player two outfit.
Lars' extra outfit follows a similar motif as a standard Tekken Force Armor, but with major alterations. First, there is a torn red cape hanging from his left shoulder plate, designed to look like a lion. His armor now contains different parts of gold and silver. He has a belt containing multiple pockets, while his top is sleeveless.
See Tekken 6: Bloodline Rebellion Player 1 outfit
Player Two
Lar's armor now undergoes a minor color change. His armor now instead of being red and black, becomes blue, black and white instead.
( See Tekken 6 Bloodline Rebellion Player 1 Outfit.)