Tekken Tag Tournament 2
From Tekkenpedia
Tekken Tag Tournament 2
Platforms
Arcade, PlayStation 3, Wii U and Xbox 360
Release Date
Arcade

Playstation 3 and Xbox 360

September 10th, 2012 (worldwide)
September 11th, 2012 (US)
September 13th, 2012 (JP)
September 14th, 2012 (EU)

Arcade System
Namco System 369
Genre
Fighting
Game modes
Single-player, multiplayer
Predecessor
Tekken Resolute
Followed By
Tekken Hybrid
Official site
http://www.tekken-official.jp/tag2/index.html
Tekken Tag Tournament 2 is a spin-off game from the Tekken fighting game series. This is the second game in the series to have a focus on Tag team battles rather than one-on-one battles. The game was officially announced on September 18, 2010 at the Tougeki event by the creator Katsuhiro Harada. He had previously mentioned the game during a speech at the conference The Legend of Tekken in Madrid on May 2010, but having only said they were 'working on the next Tekken', magazine writers and fans alike had erroneously believed he was talking about Tekken 7. Harada later cleared up the confusion on his Twitter page See here..
On February 16th, 2012, an upgrade was announced at the AOU 2012 under the name of Tekken Tag Tournament 2: Unlimited, or Tekken Unlimited for short. Tekken Unlimited is to feature not only 2vs2 battles, but also 1vs1 and as an entirely new addition, 1vs2 battles. Additionally, the gameplay will be balanced out for any battle format to be enjoyable as the other ones. Tekken Unlimited went online for Arcade machines on March 27th, 2012.
Tekken Tag Tournament 2 was originally intended to feature current-era characters from the canon Tekken 6. When Jun Kazama was added to the roster after many requests from fans to Harada on Twitter (she last appeared in 1995's Tekken 2), the game slowly started to become an 'all-stars' type, as many more characters who haven't appeared for over a decade were re-added and released as DLCs. At the final release, there were 60 playable characters, the highest in the series.
Kunimitsu, Michelle, Angel and Ogre were the first officially announced DLC characters on May 21st, 2012. They were also available instantly for those who preordered the game. On July 6th, 2012, 4 more characters were announced: Alex, Prototype Jack, Tiger Jackson and Forest Law, all immediately playable for the game's release. [1] [2]. On September 10th, 2012, 6 more characters, Miharu, Unknown, Dr. Bosconovitch, Sebastian, Violet & Slim Bob were leaked through 'data mining' from earlier released Xbox 360 copies. [3] Miharu, Sebastian, and Slim Bob were released on the console version of Tekken Tag Tournament 2 along with the DLC for its Xbox 360 counterpart. However, during the second week of November, the other three characters were released for all versions of the game.
The game was released on 11th September 2012, in America. It was released in Japan on the 13th September and in Europe on the 14th. Nearly a month later, Miharu, Slim Bob and Sebastian and all locked stages were unlocked through a system update (1.02) on October 9th, 2012. [4] It also fixes Kunimitsu's hitbox issues and Ancient Ogre's infinite, while also adding decals to the customizations options and granting access to World Arena and a direct link to the Playstation Store.
At September 2013 the World Tekken Federation, the site in charge of the console rankings, bans, and accounts, shut down due to the finances needed, and the insufficient amount of accounts to maintain the site. On February 17, 2015, cabinets in Japan are shut down in order to give way for the new Tekken 7 machines.
Development
Tekken Tag Tournament 2 revealed that Jin Kazama, Asuka Kazama, Leo, and Kazuya Mishima would be playable. After the game was announced, it was spotted that the arcade version uses a upgraded version on Tekken 6's engine and expands on the Tag mechanics featured in the first Tekken Tag Tournament, allowing extended tag combos and combined moves.
It was revealed to release in the Japanese arcades during Summer 2011. At the World Cyber Games 2010, Harada hinted that the upcoming console version might feature additional console-exclusive returning characters and bonus gameplay modes. Also on Twitter, Harada suggested that the release of the console version of the game would be between the releases of Street Fighter X Tekken and Tekken X Street Fighter. In an interview at 2015, Harada stated two major reasons why the game never hit portable consoles such as the Playstation Vita; The two reasons were that there was a considerable lack of demand to have portable ports of the game, and that rendering four different characters could only be done after much difficulty and dropping of quality.
On Harada's Twitter page, many fans were requesting Harada to bring back Jun Kazama. Harada then stated on his Twitter and Facebook page that if he gets at least 4000 followers who tweet "Bring Back Jun" Harada and his team will consider bringing her back in this and possibly future Tekken games. As of 2011, he now has over 10,000 followers.
On November 6th, 2010, a test play video was released to show fans samples of the new Tag system's gameplay. There are walls on the Practice mode, but can be disabled. From Harada's own words "You can now have 3 characters on screen so you can hold them up and have another character attack them and if the timings right you can escape". In the AOU 2011 it also showed the return of the "Item Move" feature that was also present in Tekken 6 and Bloodline Rebellion. Harada said he has a lot of ideas for this game like escaping from attacks, holds, and breaking through walls like in Tekken 6. On the 14th Episode of Tekken Player Aris's Podcast, Avoiding the Puddle, Harada appeared and confirmed that all 41 playable characters from Tekken 6 (including Panda NOT as a palette swap) will be returning along with Jinpachi Mishima.
At AOU 2011, it was confirmed Jun Kazama and True Ogre would also be returning as playable characters. Devil will also appear in the game as a transformation stance of Kazuya. Overall, 44 characters have been confirmed. More characters are to be included to the roster of the console version of the game.
According to Katsuhiro Harada, the game will not be having the Rage system from Tekken 6, but a new tag partner rage system similar to the Netsu Power in Tekken Tag Tournament. On May 16th, many gameplay videos were uploaded on YouTube. Tekken Tag Tournament 2 was set for an August 2011 release in Japanese arcades but was pushed back to September 2011 due to the Tōhoku happenings.
The majority of the characters will finally speak their native (i.e. Lili will speak French, Leo will speak German, etc.). In the arcade version, there are images of chickens on the lower left panel of the player, when a player wins while this icon is present presents the player with chicken points. The chicken will first normally appear as a regular white chicken and when the player wins the announcer will say "Chicken" after "You Win". As points accumulate so will the rank of the player's chicken. The first stage has the chicken's feathers turn red, from this point onward the announcer will now say "Great Chicken". Following this the chicken may now rank up once again when it earns shades, after accumulating more points it's feathers will turn black and in it's final stage the chicken will gain a large mohawk. Chicken points are meant for individual players and will randomly appear. This game is also the second Tekken game where the final boss is fought on 2 separate stages (the first being Tekken 3). Team interactions are made when the opponent is defeated by a tag assault, a tag combo or a tag throw, what the characters will do will depend on their character allegiance. The allegiance chart also applies during the main fight as the sub-characters may go into rage mode in a faster or slower pace depending on their relationship with the main character. Tekken 6's roulette system has been replaced with the Lucky box system and like it's predecessor will randomly appear as a blue or red line that constantly flickers on the bottom of the screen. There are 5 types of boxes, red, white, blue, silver and gold boxes. White boxes give a small amount of money, blue boxes give a large amount, red boxes increases the probability of getting a lucky box, silver boxes provide players with tickets while the gold boxes give players items like rage color or a high amount of money after all the rage colors are acquired. Tickets are solely meant for the ticket shop which sells players titles, which are under the player's name, and panels which are the display show during the character or team intro. Panels are basically the art that is shown before the fight in the versus screen. All characters have at least 3 arts, all from different artists. Additionally it is also possible to receive the CG Arts of Nina, Jin, Devil Jin, Alisa, Xiaoyu, Heihachi, Anna, Panda and Kazuya from Tekken: Blood Vengeance. Jaycee also has also has a second set of images from the artists, one set with her mask and the other without it. There are also team trials meant for the players who have started or joined a team. The team trials are a set of objectives updated weekly, the less amount of players that participate, the more amount of money is given to those that have participated.
As of September 10th, 2012 there are 59 playable characters, the highest number of playable characters in the Tekken series.
Tekken Tag Tournament 2 Prologue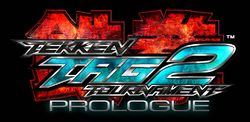 A demo version of the game known as "Tekken Tag Tournament 2: Prologue" was included as a part of Tekken Hybrid along with an HD remake of it's predecessor, Tekken Tag Tournament. The demo had new outfits exclusive to the demo for all its playable characters (Devil, Devil Jin, Xiaoyu and Alisa) including new forms for Devil and Devil Jin, which all are also shown in the Tekken: Blood Vengeance CG film, included in the Tekken Hybrid disc.
Tekken Tag Tournament 2 Unlimited
On February 16th, 2012, an upgrade was announced at AOU 2012 under the name of Tekken Tag Tournament 2: Unlimited. Tekken Unlimited is to feature not only 2vs2 battles but also 1vs1 and as an entirely new addition, 1vs2 battles. Additionally, the gameplay will be balanced out for any battle format to be enjoyable as the other ones. Furthermore, the design of the life gauge has been changed. Tekken Unlimited went online for Arcade machines on March 27th, 2012.
On April 12th, 2012, several sources claim that Tekken Tag Tournament 2 would be slated for release for consoles on September 2012. Additionally, new characters will be added, as well as new stages and an entirely new Practice Mode called "Fight Lab" featuring Combot. Artworks of every character, made by three different artists, were released alongside this upgrade, which can all be seen here.
On May 21st, 2012, the first four DLC characters (Kunimitsu, Michelle Chang, Angel and Ogre) were announced. In addition to that, there is a new stage featuring Snoop Dogg that is available for pre-order ([5]).
On July 6th, 2012, 4 more characters were announced (Alex, P. Jack, Tiger and Forest) [6].
On September 10th, 2012, 6 more characters, Miharu, Unknown, Dr. Bosconovitch, Sebastian, Violet & Slim Bob were discovered through datamining [7].
Tekken Tag Tournament 2 is to feature over 50 characters.
It is said that besides the Fight Lab Mode, there will be another mode for Tekken Tag Tournament 2 [8], which turned out to be Tekken Tunes, announced at Gamescom 2012.
Global Championsip
On July and August 2013, Namco announced the Global Championship, countries with access to Tekken Tag Tournament 2 arcade cabinets, would be allowed to participate in the tournament. The tournament is to take place at October 26, 2013 and will be in South Korea, the host would be Cafeid, one of the biggest supporters of the South Korean fighting game community. Representatives must first win the tournament in their respective countries after this Namco would pay for the trip to go to South Korea. The countries that are participating are the along with the number of representatives are as follows: South Korea (3), Japan (2), China (2), Australia (2), Singapore (2), Indonesia (2), Malaysia (1), Taiwan (1), Hong Kong (1), Philippines (1), Thailand (1), New Zealand (1) and USA (1). Prizes range from things like new premium Bana Passports, and stickers, autographed items by Tekken Director Katsuhiro Harada, and shirts. The grand prize for winning the tournament would be 10,000 US dollars. A "Harada calendar" was later made featuring notable members of the Namco, Tekken staff alongside Tekken players per day going to the actual tournament.[9] On the day before the tournament, players would play rock-paper-scissors in order to decide who would join which bracket. The preliminary matches occurred within the brackets of five, the top two players entering winner's bracket. Whoever won winner's bracket would automatically reach the finals while any losing player would be sent to the loser's bracket. The final match would be decided between the winners of the winner's and loser's bracket. The event was streamed by Cafeid on Twitch, which was hosted by Markman and Spooky, and Nico nico, with Harada, Yuu, and Tekken Bancho. Also, multiple audience members included various Korean players and relatives of some of the participants (Some participants were only allowed to go to South Korea with their guardians due to them being under twenty).
Players
The following are the players who have won in their respective country's tournament and represent the said country in the Global Championship. Upon winning, some were given three questions to answer. The first being their favorite characters or the team they used to win their country's qualifier, the second being when they started playing Tekken and the third is to make a statement showing their enthusiasm.
Taiwan: Snake (Heihachi/Armor King)
2. Snake: "I started from Tekken 5"
3. Snake: "Taiwan has entered world-class Tekken"
Japan: Nobi (Dragunov/Lars), Kagemaru (Jack-6/Bruce)
2. Nobi: "7 years ago", Kagemaru: "7 years ago"
3. Nobi: "I just want to play Tekken", Kagemaru: "Bring it on!"
China: shutdown (Lars/Steve), N.King(Asuka/Lili)
2. shutdown: "I started 5 years ago"
3. shutdown: "I wish to get the best results as part of the Chinese team"
USA: MR.NAPS (Bryan/Dragunov)
2. MR.NAPS: "I started playing Tekken when I was 9 years old"
3. MR.NAPS: "The tournament was a lot of fun, and I simply wanted to focus on playing my best"
Hong Kong: 西毒檸茶-Lightning! (Lei/Ogre)
2.西毒檸茶-Lightning!: "When Tekken 4 was released, I was 14 years old and started playing the game. However, I wasn't good at it before I came as a foreign student to Hong Kong."
3.西毒檸茶-Lightning!: "I am at the peak of my skill level right now, so I would be happy to represent Hong Kong and play on a global level for the first time."
Philippines: AK (Paul/Law)
2. AK: "I started playing Tekken with my family to get along better with them" (AK was actually asked why he played Tekken instead of when he began, this may be due to his younger age)
3. AK: "Tekken tag tournament 2 is more fun in the Philippines, especially in Timezone! :) "
Australia: Marimo/SC/ (Hwoarang/Baek), MMT (King/Armor King)
2. Marimo/SC/: "I don't even play this game, I walked past the arcade and saw people crowding so I entered", MMT: "Started playing in 2004 as a casual gamer in my local arcade before learning the game in a more serious manner and becoming competitive in 2006, where I entered my first Australian Nationals proceeding only to the second round, but opening my eyes to a whole different level of competition than my local arcade at the time. It made me strive harder to become a better competitor.
In 2007, placed 5th in the Nationals
In 2008, placed 2nd in the Nationals
In 2009, placed 2nd in the Nationals
No nationals were held in 2010.
In 2011, placed 3rd in the Nationals
In 2012, placed 4th in the Nationals. 2012 was a huge year for me in terms of gaming.
In May I competed in my first Shadowloo Showdown, and won the tournament.
In August, I qualified with a teammate to compete in Japan for Australia in the 2012 Tougeki Japan, or better known as Super Battle Opera (SBO) what I consider the largest fighting game worldwide tournament on Arcade (EVO being largest console) placing equal 4th in the tournament, the best Australia has ever come in SBO history. In November I won a competition that allowed me to compete for Australia in the 2012 Electronic Sports World Cup in France, placing equal 5th.
3.Marimo/SC/:"I really love Tekken more than girlfriend and of course studying. I wish Australia will beat all :)", MMT: "Looking forward to playing with and learning from some of the best in the world through this experience."
New Zealand: BG (Bryan/Devil Jin)
2. BG: "Started playing tekken since TTT1. won timezone tournament"
3. BG: "Personally think it would be a really great experience to play against top players from other countries and hope to see more tournaments like this in the future."
Malaysia: Fate_Q (Miguel/Jinpachi)
2. Fate_Q: "I started from Tekken 6"
3."For the first time, I seem quite nervous, but I feel confident at the same. Patience was the key to win the tournament."
Singapore: ZF (Feng), ZapHwoarang (Hwoarang/Baek)
2. ZF: "TK5DR", ZapHwoarang: "Since Tekken 3 as Hwoarang. My original idols in Tekken are Axe Hwoarang and Step Hwoarang from Tekken Tag 1."
3. ZF: "The tournament was well organized locally by TKA Virtualand and Namco. I feel very fortunate and excited to travel and be able to compete with the some of the best players in the world. Will definitely do my best in the global tournament!", ZapHwoarang: "Tournaments are fun and intense because players get to show their real game. I'm motivated by the fact that I've been around in this game too long and guess what, I'm still here! I'm a dinosaur!"
South Korea: Saint (Bob/Ganryu), JDCR (Heihachi/Armor King), Help-Me!! (Lee/Paul)
2 Saint: "10 years ago", JDCR: "10 years ago", Help-Me!!: "Since Tekken 5 started"
3 Saint: "I'll do my best", JDCR: "I'm really grateful to be chosen to represent Korea. I hope I'm able to display my abilities at the tournament, Help-Me!!: "I feel truly privileged to have won against Knee-san and be chosen as a representative for Korea. Since this is such a great chance I want to win at the Global Championship on behalf of Knee-san."
Thailand: BooK (Jin/Heihachi)
2. BooK: "1st Thailand Game Show 2012 TTT2"
3. BooK: "exciting and challenging. I'm glad nice to meet new player .Tekken game is very fun. Not less than games other And this global competition. I will try to complete it."
Indonesia: Hero (Law/Lars), LEXUZZ (Bryan/Lars)
2. Hero: "I started 4 years ago", LEXUZZ: "Tekken Tag 2 : Tekken 3 and start seriusly until now Tekken 6 BR"
3. Hero: "Tournament always makes me nervous,but i'll do my best and hope to get the best result", LEXUZZ: "Grateful to be able to go to Korea, nice tournament, good community, good people,Good experience, long live Tekken Indonesia"
Placing
1st
Saint (South Korea)
2nd
JDCR (South Korea)
3rd
AK(Philippines)
4th
BooK (Thailand)
Top 5
Help-Me!! (South Korea)
Mr.NAPS (USA)
Top 8
MMT (Australia)
Kagemaru (Japan)
Top 20
Hero (Indonesia)
LEXUZZ (Indonesia)
ZF (Singapore)
ZapHwoarang (Singapore)
Marimo/SC/ (Australia)
Nobi (Japan)
BG (New Zealand)
Fate_Q (Malaysia)
西毒檸茶-Lightning! (Hong Kong)
shutdown (China)
Snake (Taiwan)
N.King (China)

Tekken Tag Tournament 2 Wii U Edition
Tekken Tag Tournament Wii U will feature all the modes in the PS3/Xbox 360 versions. In addition, Wii U includes exclusive data such as costumes that represent Nintendo characters. So far, a Mario, Luigi, Bowser, Link, Zelda, and Zero Suit Samus outfit have been confirmed. Also, there will be a mode called Mushroom Battle, which seems to have many Mushrooms (Regular, Poison, Mega) scattered throughout stages that increase or shrink player's sizes upon contact.
Another feature which will be included in the Wii U Edition will be the return of Tekken Ball, which first made its appearance in Tekken 3.[10]

Plot
Working as the long-time head of the Mishima Zaibatsu, Heihachi Mishima solidified the organization's foundation. At the same time, however, he ran a top-secret research lab, on the search for a way to understand the aging process and regain his youth. The search for perpetual youth and longevity may have seemed like just a dream, but after years of work, his team of researchers finally completed the rejuvenation serum he sought. "Ha ha ha... Now, eternal youth is finally within my grasp!" Gulping down the serum, the effects became to emerge almost immediately. Within minutes, he had transformed into a younger version of himself, complete with a full head of black hair. "This surging power...! Now I will be invincible!" Just as Heihachi was musing over how to reveal his newfound power to the world, the Tag Tournament announced its opening. "Tag, huh? I think I know just who to choose as my partner." And with that, the curtain raises on the mysterious Tag Tournament. [11]
Modes
The sections below are stubs. You can help by expanding them.
Fight Lab
Fight Lab is a mode created to help train both beginners and experienced Tekken players. Using Combot you will partake in many activities, following instructions in order to complete different missions to help you be a better fighter. [12]
Online Mode
Similar to Tekken 6, players from all around the world may go online to battle each other.
Ranked Matches
Play online against other opponents to receive battle points and a chance to raise your rank.
List of Ranks
Beginner - 入門生
9th ~ 1st Kyu - 九級 ~ 一級
1st ~ 3rd Dan - 初段 ~ 三段
4th Dan: Disciple - 高弟
5th Dan: Mentor - 師範代
6th Dan: Master - 免許皆伝
7th Dan: Grand Master - 達人
8th Dan: Brawler - 餓狼
9th Dan: Marauder - 猛虎
10th Dan: Fighter - 獅子
11th Dan: Berserker - 飛龍

12th Dan: Warrior - 剛拳
13th Dan: Avenger - 狂拳
14th Dan: Duelist - 烈拳
15th Dan: Pugilist - 闘拳
16th Dan: Vanquisher - 修羅
17th Dan: Destroyer - 羅刹
18th Dan: Conqueror - 羅漢
19th Dan: Savior - 羅将
20th Dan: Genbu - 玄武
21st Dan: Byakko - 白虎
22nd Dan: Seiryu - 青龍

23rd Dan: Suzaku - 朱雀
24th Dan: Fujin - 風神
25th Dan: Raijin - 雷神
26th Dan: Yaksa - 鬼神
27th Dan: Majin - 魔神
28th Dan: Toshin - 闘神
29th Dan: Emperor - 拳主
30th Dan: Tekken Lord - 鉄拳主
31st Dan: Tekken Emperor - 鐵拳大帝
32nd Dan: Tekken God - 鉄拳神
100th Dan: True Tekken God - 真鉄拳神
Player Matches
Select from the following menu options to fight against other people online. These matches do not affect your online rank. Quick Match: Players can be randomly matched against an opponent to fight. Custom Match: Players can set specific parameters for their search for a lobby created by other fighters and select a lobby to enter from a list. Create Session: Players can host a lobby with specific settings and have opponents join.
World Arena
Players can enter lobby rooms that represent areas around the world and send requests to fight against other players in the lobby. They can also join a tournament room in the lobby to be randomly matched with other competitors. This mode is very similar to the Global Colosseo online mode in Soul Calibur 5.
Team
Teams are formed by a specific player and that player can determine how members will go into the group (e.g. Approval from leader, No restriction, Password Protected). In the arcade, teams can level up either by completing trials and earning points or by simply participating in a fight. The level of the team determines what type of emblems and marks can be created and used for the team's logo. Teams are also given team trials to encourage people to join teams and win. The winning prize for completing the trial are Team points, tickets, and money.
Leaderboards
Like in Tekken 6 it's possible to check the rankings of specific characters, regions as well as the overall rankings of players. Additionally, it's also possible to check things such as the frequency of a specific character or team and the data of the player.
Replays
Like in Tekken 6 it's possible for players to watch replays of themselves as well as the replays of other players. Now, however, data is given regarding the combos and strings done by any player, and it is possible to pause while watching the replay. In the arcades, replays are sent to various Live Battle Monitors, located usually in arcades with Tekken Tag Tournament 2.
Offline Mode
Arcade Battle
Arcade Battle has the player fight the same sequence of opponents like in the regular arcade version of Tekken Tag 2. This mode includes the bosses Heihachi, Jinpachi, True Ogre, Jun, and Unknown.
Ghost Battle
As with Tekken 6, the player battles through endless waves of AI opponents.
VS Battle
A staple of the series, this mode has you fight against another player.
Team Battle
Pick up to approximately eight fighters on your team and battle against the same amount.
Time Attack
Players have complete an Arcade playthrough in the fastest time as possible.
Survival
Fight an endless wave of opponents until your health meter has fully depleted. You will regain a certain amount of health after winning each round.
Practice
An improved practice mode, this allows you to hone your skills.
Tekken Tunes
This mode allows you to play or alter the music settings. Here, you can change character select / stage themes, import your own music via USB and customize the soundtrack of the game to your liking.[13]
Gallery
In the Gallery, you can watch the ending movies of each character, the opening movies for the game, Fight Lab cut scenes, and credits that are shown after beating Arcade mode. You can also enter the Tekken Theater where players can watch old opening and ending movies from the original Tekken, Tekken 2, Tekken 3, and Tekken Tag Tournament, but these movies must be purchased through the PlayStation Store as DLC.
Profile
This is where you view your player information. It goes into detail with things like character info and usage, online and offline ranks, win percentage online and offline, play time, a battle log, etc. This is also where players access the Replay Theater where they can watch saved replays from their own past battles or replays downloaded online of other fighters matches.
Options
Players can adjust various game and controller settings in the Options menu. These include things such as difficulty and time limit, sound settings, controller setup, and display settings. You are also able to view the copyright information for the game here.
Playstation Store
This sends players directly into the Playstation Store allowing them to purchase any DLC for the game, like past Tekken soundtracks to use in Tekken Tunes, and old movies from past Tekken games to view in the Tekken Theater.
Features
The sections below are stubs. You can help by expanding them.
2 vs. 2 Battles
This was the default system before the introduction for Tekken Tag Tournament 2 Unlimited. Like is predecessor the basic mechanic has two teams fight it out. When a character is damaged only the red life will be recovered while anything else won't be recovered. If the balcony effect is made then the secondary character will continue the combo.
1 vs.1 Battles
The system is exactly alike with Tekken 6's regular system. When a balcony effect is activated the main character will jump down.
1 vs. 2 Battles
In a similar fashion with Unknown, Ogre and Jun the solo character will slowly recover red life and they will have more damage and life but unlike the bosses they will go down if the red life is full.
Pair Play
Like the console version of the first Tekken Tag Tournament, players can now team up to control individual characters within a single team.
Tag Assault
The most anticipated feature was a tag assault. It is activated when a player hits 5 (the tag button) right after a bound move. The opponent, instead of bounding will bounce and so the secondary character will attack and later the leader will have the opportunity to attack. When the secondary character will attack and connect, the character(if solo)or the partner(in a team) will automatically go into rage mode.
Tag Crash
By hitting 2 and 5, when the character is lying down while the partner is enraged, results to a tag crash. The crash will automatically stop the opponent from attacking and make the opponent guard if there's contact, however, the secondary character won't be enraged and the main character will lose all their red health
Secret Combos
Secret combos were originally exclusive to both Paul and Forest Law in the first Tekken Tag Tournament. In this game, however, more specific teams have secret combos namely Jin and Asuka, Nina and Anna, Jack-6 and Bryan, Baek and Hwoarang, Jin and Devil Jin, Alisa and Xiaoyu, Marshall Law and Paul, Forest Law and Paul, and Kazuya and Jinpachi. These combos are differentiated because the characters in the team have blue flares when they attack, and can perform switches which were normally not allowed such as Baek tagging when Hwoarang uses his Overhead Kick or characters can attack right after a throw and if the combo is completed the announcer usually "Great". Secret combos are counted as a Tag combo which reduces the amount of recoverable health rather than a Tag Assault which only adds the recoverable damage
World Tekken Federation
The World Tekken Federation is a site[14] meant for the console users of the game. Like it's arcade counterpart, Tekken net[15], the site gives off info such as the rankings of the player's characters, their team and the player's amount of money. Unlike Tekken 6 it's now possible for users such as boosters to be banned from the online world. (e.g. TekkenGodZafina). After nearly a year of being in service, the site was reluctantly taken down by Namco. Harada and Michael Murray both stated that the cost of maintaining the site was too much in comparison to the sales of Tekken Tag Tournament 2 and those making accounts.
Item Moves
Like Tekken 6, Item moves will be used in the game. Players will usually find or select specific customization items and equip them to the character. Once equipped, the character can now have a new move or animation depending on the effect of the item equipped. A list of the game's item moves can be seen here [16]
Character Roster
Confirmed Characters
* Console exclusive / Console time release
Stages
Multi-tiered Stages
*can only be chosen via random select (Arcade)
Media
Video Gallery
Image Gallery
Trivia
This is the first Tekken game to allow the music for each stage to be swapped.
This is the first Namco-made Tekken game that will feature DLC.
This is the first game that will feature both Marshall and Forest Law.
The is the first game that separates the character boxes of Kuma and Panda, Lee and Violet, Xiaoyu and Miharu, and Tiger and Eddy.
It currently boasts the most amount of characters in a Tekken game with 59 characters.
It currently features the most modes for any Tekken game.
Like Tekken 6, the game will feature item moves for characters.
Players can now choose which CG art they can display.
The game appears in the twenty-first episode of the anime, Accel World.
French Kickboxer Jerome le Banner and American Kickboxer Bob Sapp were both featured in the Harada Calendar for the Tekken Tag Tournament 2 Global Championships.
The rank names of the 20th Dan to 23th Dan are named from the four sacred beasts, the turtle (Genbu), the Tiger (Byakko), the Dragon (Seiryu) and the Phoenix (Suzaku)
Ranks 24-28 are all named after various Buddhist and Japanese gods. Fujins are Japanese gods of wind, Raijins being that of thunder, Yaksa is a class of nature spirits in Buddhism, Majins literally translate to demon gods and Toshin is in reference to Ogre's role as the "God of Fighting".
During the trailer for Tekken Tag Tournament 2: Unlimited, the character's life bars were depicted as green, but in actual gameplay release, the bars were simply blue.
Multiple high-ranked ghost CPUs are named after high-ranked Japanese players such as Nobi, AO and Yuu.
Blurred images of the game are seen in Digimonstory Cybersleuth.