Alex
From Tekkenpedia English
Name
Alex
Origin
DNA sample taken from an insect
Voiced By
N/A
Fighting Style
Commando Wrestling
Age
Unknown
Blood Type
Unknown
Height
155 cm (5' 1")
Weight
75 kg (165 lbs)
Occupation
Training
Hobby
None
Likes
Doctor Bosconovitch
Roger
Dislikes
Kazuya Mishima
Introduction
Alex (アレックス Arekkusu) was introduced in Tekken 2, and he returned for Tekken Tag Tournament and Tekken Tag Tournament 2. Alex does not have his own character space in either one of the two games that he is in. Instead, he shares his character space with Roger. Both Roger and Alex also share the same moves / fighting style. Alex has his own ending in Tekken 2, but he shares his ending with Roger in Tekken Tag Tournament.
His title in the original trilogy is Dinonics Commander.
Games in order of appearance:
Other appearances:
History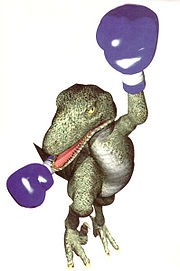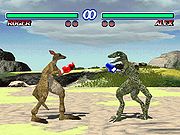 Gameplay
This section is empty. You can help by expanding it.
Story
Prologue
Both Roger and Alex are the result of a military experiment. Doctor Bosconovitch wanted to combine the genes from a martial artist and cross it with a wild animal. It is rumored that Doctor Abel has stolen Roger and Alex and is keeping them with him in his secret laboratory. Alex is a hybrid of a prehistoric dinosaur and a lizard, and he is also the result of splicing Roger's genes. There have been similar species on the Earth many years ago.
Ending, "Leaping Alex"
Alex is studying a rock that appears to have a dinosaur fossil in it. A dinosaur's face flashes on the screen and Alex roars and starts running, gradually gaining speed. He runs up the mountain and, having got to see one of his ancestors, happily jumps up into the air, putting one of his fists up.
Trivia
Spin-Offs and Related Games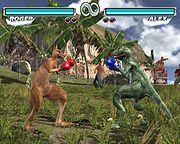 Gameplay
This section is empty. You can help by expanding it.
Story
Tekken Tag Tournament is a non-canonical Tekken game containing no plot.
Ending (Unofficial Synopsis)
Alex is playing "Rock, Paper, Scissors" with Yoshimitsu. Alex's boxing gloves force Alex to choose "Rock" every time. Knowing this, Yoshimitsu picks "Paper" every time and wins the first round every time. This ending takes place in Paul Phoenix's Tekken Tag Tournament stage.
Trivia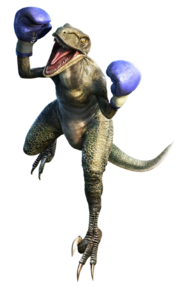 Alex will feature in Tekken Tag Tounrament 2, a non-canonical Tekken game. [1]
Gameplay
Alex's command list is based off of Roger Jr.'s fighting style. Alex, however, has his own animations and variations to his moveset.
Story
A deinonychus trained for military purposes, Alex is a vicious animal that was created by extracting dinosaur DNA from an insect trapped in amber, with gaps in the DNA filled in with genetic data from Roger. Alex does not seem fully mature yet, but currently has about the same fighting strength as Roger. Alex will become an extremely powerful animal once he fully matures. [2]
(From Wii U Edition)
A deinonychus trained by the military. Scientists harvested dinosaur DNA from insects trapped in amber, and spliced it with Roger's kangaroo DNA to fill, ultimately creating Alex. While he currently shares the same amount of strength as Roger, he is expected to be even more formidable in his mature form[1].
Ending (Unofficial Synopsis)
Roger Jr. is seen lost in a desert while looking for his mother. Alex spots him and tries to attack him, but is thoroughly beaten up by Roger Jr.. He later helps Roger Jr. look for his mother. Alex ends up helping Roger Jr., by putting him on top of his shoulders. They finally find Roger Jr.'s mother, and the screen focuses on Alex.
Trivia
Videos
Character Trivia
Notes