Armor King I
From Tekkenpedia English
Name
Armor King
Origin
Unknown
Voiced By
N/A
Fighting Style
Professional wrestling
Age
Unknown (deceased)
Blood Type
Unknown
Height
193 cm (6'4")
Weight
91 kg (200 lbs)
Occupation
Professional wrestler
Hobby
Challenging dojo leaders
Likes
Liquor, Armor King II, King I (T2) and King II.
Dislikes
King I (T1).
Introduction
Armor King (アーマー・キング Āmā Kingu) was introduced in the orignal Tekken made his final appearance in Tekken Tag Tournament. He was once the enemy of King I though the two later became partners. After the original King was killed by Ogre, Armor King found a young protégé to take up the mantle of King. Between the third and fourth tournament, Armor King is eventually ends up in a bar in Arizona. A man named Marduk is bragging about his Vale Tudo skills and then starts a bar brawl. Armor King rises to the challenge to teach the young punk a lesson and Marduk kills him. After his death, his younger brother joined the The King of Iron Fist Tournament 5 to exact revenge on Armor King's killer.
His title in the original trilogy is Evil Flower.
Games in order of appearance:
Other appearances:
History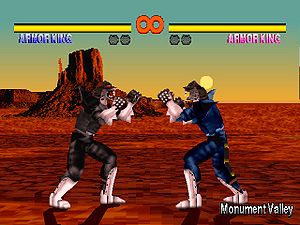 Gameplay
Armor King shares most of his moveset with King, but he also has Kazuya's and Heihachi's Wind God Fist and Thunder God Fist attacks. Because of this, he tends to be superior to King in terms of gameplay.
Story
Prologue
Armor King was King's rival. Years ago, during a match, King made a mistake and smashed one of Armor King's eyes. After that, King bathed in the spotlight of the Pro Wrestling world, while Armor King went down the opposite road, with an injured eye handicap.
Trivia
King is Armor King's stage 8 sub-boss.
Armor King is King's stage 8 sub-boss.
Armor King is unlocked after beating the game with King.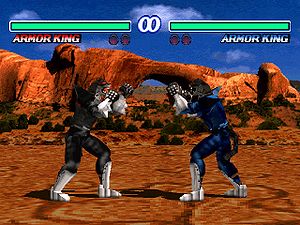 Gameplay
Similar to his incarnation in the previous game, Armor King has most of King's attacks and throws while also possessing the Mishima's trademark uppercut attacks, however this time he adds a few original moves of his own, such as his own unblockable attack, his Steiner Screwdriver throw (itself an extension of his basic Suplex throw), a side-stepping punch and his shoulder tackle attack.
Story
Prologue
Armor King travels from one wrestling ring to another, searching for a worthy challenger. Long ago, he found this in a Mexican village priest called James Rey (James King). They became bitter rivals for many years. Armor King watched with interest at the first tournament, as King's attempt to win the tournament (and the much-needed cash prize) ended in failure. As King chose the path of the drunkard following the loss, Armor King saw a total change in his old rival, as King no longer entered any wrestling tournaments and disappeared for long periods of time. Armor King became worried for his friend/rival, and he intervened just in time, as King was at the edge of a breakdown. He found King sitting in an alleyway, totally drunk and pitiful. He threw King's jaguar mask at his feet and told King of the second Iron Fist Tournament. He made King see that if he were to enter the second tournament, there was still a chance he could build the proposed orphanage for the children. With this, King came to his senses and began a furious training regime. Although Armor King was King's friend, as rivals, Armor King looked forward to punishing King, and with King now entering the second tournament, Armor King could defeat him once and for all.
Ending (Unofficial Synopsis)
A heart monitor is beeping, x-rays are on the wall, clock loudly ticking and water drips from a sink faucet as the camera shows Armor King sitting on a locker room's bench. He stands up and begins to leave, suddenly, his eyesight becomes blurry and he stumbles, almost falling to the ground. Some drops of blood fall from Armor King's red eye Armor King gets back up and walks out of the room. The crowd applauds and a cheers as Armor King enters the arena.
Trivia
King is Armor King's stage 8 sub-boss.
Armor King is King's stage 8 sub-boss.
Armor King is unlocked after beating the game with King.
Spin-offs and Related Games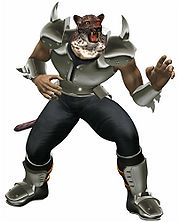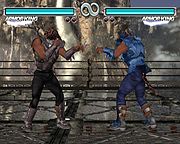 Gameplay
Armor King is mostly the same as he was in Tekken 2 (with the added element of sidestep), however he no longer has the Mishima's uppercuts. In place of his old Mishima Wind God Fist he now has the Dark Upper, a launching palm uppercut similar to WGF, which he still can use to great effect. His old Thunder God Fist has changed into a running lariat attack, which hits high but gives him a slight advantage if blocked. He also continues the trend from Tekken 2 that incorporates more unique moves into his arsenal, such as a low dropkick move, a long-reaching thrusting kick attack similar to King's and a powerful knee attack from his crouch dash.
Story
Tekken Tag Tournament is a non-canonical Tekken game containing no plot.
Ending (Unofficial Synopsis)
Armor King and King are seen fighting. Despite King's attacks, Armor King successfully reverses King's attacks which lack as much effect as Armor King's attacks. When the fight is over, King pounds the ground in frustration with Armor King standing tall, arms crossed. This ending takes place in King's stage.
Trivia
Armor King's normal sidestep is possibly the widest natural sidestep in the game, along with Jin and Ogre's.
Most of Armor King's unique moves, with the notable exception of his Dark Upper, are passed down onto King's moveset in Tekken 4.
He has special tag throw with King done by Using the Armor KingDriver and pressing the tag button.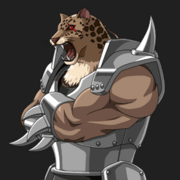 Armor King appears in Namco X Capcom as a playable character.
Story
This section is empty. You can help by expanding it.
Other Media
Minor Appearances
Videos
Character Trivia
Armor King does not speak, instead he growls like a jaguar.
He was one of the few Tekken characters to make an appearance in Namco X Capcom.
Armor King was originally called Black King prior to production of the first Tekken.
An illusion of him was created by Pandora in Street Fighter X Tekken.
A flashback of his Tekken 2 ending appears in his brother's second Tekken 6 ending.
Notes