Angel
From Tekkenpedia English
Name
Angel
Origin
Unknown
Voiced By
Yuka Koyama (TTT2)[1]
Fighting Style
Mishima Style Karate
Age
Immortal
Blood Type
Can change at will
Height
181 cm (5' 11") (Can change at will)

Weight
64 kg (143 lbs) (Can change at will)

Occupation
Saving Kazuya Mishima from Devil
Hobby
Saving the Mishima Bloodline
Likes
Kazuya Mishima
Jun Kazama
Purity
Dislikes
Devil and evil
Introduction
Angel (エンジェル Enjeru) was introduced in Tekken 2, and made her appearance in the non-canonical Tekken Tag Tournament and Tekken Tag Tournament 2. Angel is a mysterious character, leading many fans to speculate as to who or what she really is, not unlike Unknown, nothing at all is truly known of her. Harada has confirmed however via his Twitter that she is not part of Kazuya's soul[2].
Her title in the original trilogy is Angel.
Games in order of appearance:
History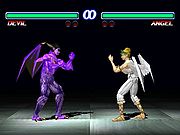 Gameplay
This section is empty. You can help by expanding it.
Story
Prologue
Although Kazuya is seemingly possessed with a black heart, there is still some good left in him. Angel will battle against Devil to save Kazuya.
Ending (Unofficial Synopsis)
Angel sits on the ledge of skyscraper, staring out into the night sky. Suddenly she throws herself off the ledge, becoming engulfed in the fog below. As she falls, the 10 original fighters race through her mind. Then 10 skeletal hands are placed together in circle, as if making a pact. Devil appears surrounded with by skeletons with wings. Angel breaks through the image and soars in to the moonlit sky, orbs of light begin to collect in the palm of her hand that she then sends cascading in to the night.
Trivia
To unlock her and Devil, you must beat Arcade mode using Kazuya. She's selected pressing one of the kick buttons while selecting Devil.
Angel is the final boss if you play as Devil.
Angel's sub-bosses are Heihachi Mishima (Stage 8) and Jun Kazama (Stage 9).
In the Arcade version of Tekken 2, Angel is called Devil when you select her and when you fight in a match with her. She is also mute when fighting, with the exception of when she is defeated; her knock-out sound is simply Kazuya's (whose sounds are shared with Devil, rather than being distorted like on the PlayStation version).
When hurt, Angel makes strange bird like noises in the console version. Furthermore when she uses her laser a chiming sound can be heard.[[1]]
Like Devil, she uses her wings to block incoming blockable attacks, a feature which was removed in posterior games. This didn't provide any advantage for Angel and Devil; it was just a different block animation.
Spin-offs and Related Games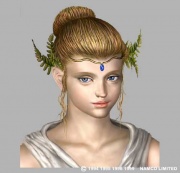 Gameplay
This section is empty. You can help by expanding it.
Story
Tekken Tag Tournament is a non-canonical Tekken game containing no plot.
Ending (Unofficial Synopsis)
Devil lays unconscious and defeated on the floor. Angel is standing beside him. She crouches and touches his head. Devil transforms into Kazuya Mishima. Angel smiles. Kazuya regains consciousness, and rises slightly. Angel is nowhere to be seen.
Trivia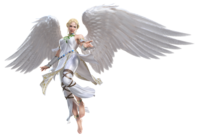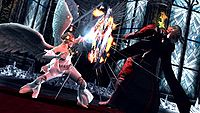 Angel will be featured as a DLC character in the console version of Tekken Tag Tournament 2.
Story
Normally elegant and beautiful, Angel bellows out a deep, manly voice during intense combat. First appearing in Tekken 2 as an opposite identity to Kazuya's devil form, Angel wields the power to purify all evil things. The motions of her standard attacks are feminine and elegant, but when it comes down to the wire, she uses aggressive, rough attacks[3].
Said to be the opposite to the Devil, Angel carries both a compassionate and cruel side[4].
(From Wii U Edition)
Said to be the exact opposite of the Devil, this elegant being hides a merciless side behind that benevolent face[5].
Gameplay
This section is empty. You can help by expanding it.
Ending
Angel is flying high in the sky, confronting Devil. Devil starts firing laser attacks at Angel, who repeatedly blocks and deflects the lasers. She then creates a gigantic forcefield of energy, which she sends crashing at Devil. Devil is hit by the impact and begins to burn away as a result. The screen changes and shows an unconscious Kazuya lying face down on the ground, a single white feather floating down onto him.
Trivia
She fights against True Ogre in a cinematic trailer, thus interrupting the battle between Nina Anna and Raven and Kunimitsu[6].
She also appears in Unknown's ending, in which she also "purifies" Unknown much like she does with Devil in Tekken Tag Tournament.
She has a special tag throw with Devil Jin where she will throw her opponent in the air using "Obliteration" and soon both she and Devil Jin will fire their lasers at the opponent simultaneously[7].
When she is struck, some feathers fall from her wings.
This entry marks the first time both players can select Angel.
Videos
Character Trivia
In the non-canon comic, Tekken Forever, Angel is shown merging with Jun Kazama.
Speculated by fans to have come to existence thanks to Jun Kazama.
Notes