Marshall Law/Outfits
From Tekkenpedia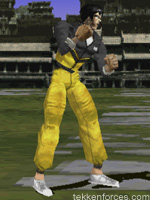 Player 1 Outfit (Arcade version): Yellow jumpsuit with black stripes with LAW spelt on the front, a large 03 and 'Dragon' written on the back and white gym shoes,based on Bruce Lee's yellow jumpsuit with black stripes from Game Of Death.

Player 1 Outfit (PlayStation version): Yellow and black jumpsuit with white gym shoes.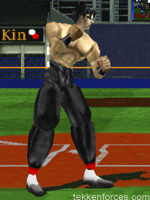 Player 2 Outfit: Black kung fu pants with black sash and black wristbands.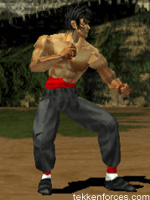 Player 1 Outfit: Following the concept of his Player 2 Outfit from the previous game, Law's pants have been redesigned. He dosen't wear the black wrist bands and gains a red sash.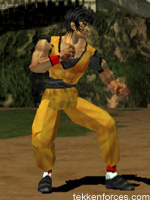 Player 2 Outfit: This is a new outfit: It consists of a yellow and black sleeveless jumpsuit similar to Goku's outfit from the Dragon ball series and red and black wristband on the right arm.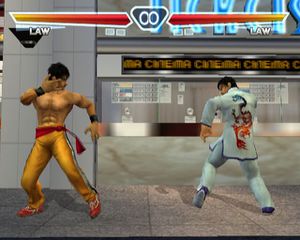 Player 1 Outfit: Law's new Player 1 Outfit consists of golden yellow track pants with a large black stripe and white lines on both sides, he also wears a red sash and red and white gym shoes. He regains his black wristbands from the first game.

Player 2 Outfit: Law's new Player 2 outfit consists of a white kung fu jacket with blue and red dragons on the back, white pants and blue shoes.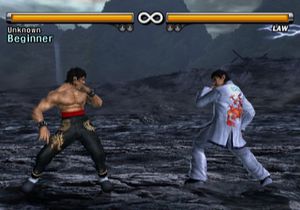 Player 1 Outfit: Following the concept of his Player 1 Outfit from Tekken 2, Law Wears A Red Sash and Black Pants. However, The Pants Have Been Redesigned and Have Gold Dragons On Them. Finally His sash has a tail on it and He Now Wears Wristbands again, But they have spikes on them. He also has scars on his chest based on the famous scars of Bruce Lee in his film "Enter the Dragon".

Player 2 Outfit: He Wears His White Chef Uniform again, but he now has buttons on the Jacket.

Player 1 Outfit: His Black Pants change to Emerald Green and His Belt Changes To Orange. His Wristbands however, remain Black.
Player 2 Outfit: His Jacket Remains White, His Pants Change to black and his shoes have a white instep.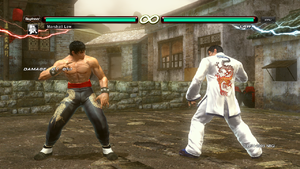 In Tekken 6, Marshall Law receives no new default costumes.
In Tekken 7, Law's outfit is a recolor of his Player 1 outfit from Tekken 5. His sash is changed to black and it appears to be longer. His pants color is changed to golden yellow (Instead of Black) with his Dragon Emblems changing to Black. Noticeably, he now has a scar on his left pectoral muscle, similar to the customization item of Forest Law in Tekken Tag Tournament 2.
He wears the Player 1 Outfit from Tekkens 5 & 6. His Player 2 Outfit, shows his Pants Changing to Red and his Sash Becomes Black.
He wears the Player 1 Outfit from Tekkens 5 & 6