Jin Kazama/Outfits
From Tekkenpedia
Due to the length of this article, the evolution of Jin's gauntlets and gloves have been made into a seperate article.
Jin Kazama has worn a great deal of outfits in the course of the Tekken series. Many of these outfits feature flames on them, and, with the exception of a single outfit in Tekken 6, he always wears either gloves or gauntlets.
In Tekken 3, Jin Kazama was introduced as a character for the very first time and was given two default outfits, just like all other characters, along with one extra, a feature only available to a select few.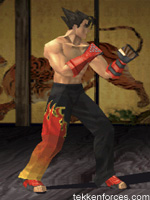 Player one outfit: features Jin with pair of black pants with a flame colored in a linear tint, from yellow to red, on his right leg. The flame starts at the end of his pant leg and ends just under his hip. He also wears a pair of matching gauntlets and foot protectors. This outfit is presumably what he used during training for maximum mobility and protection of his hands and feet.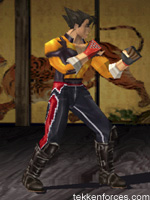 Player two outfit: saw him wearing gloves instead of gauntlets and he had lost the matching foot protectors in favor of long black boots with knee cap protectors. He wears a long-sleeved, collared jacket/shirt, colored orange with a black pattern, and the word "JAPAN" printed on the back. He however wears it with the sleeves rolled midway up his forearms and with the zipper open to the top of his abs. His pants are dark blue with a white line along the inner seem, two red 'fire pillars' with white rims, and another red patter with white rims around his waist.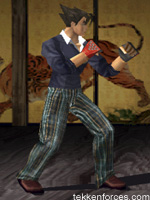 Player 3 outfit: is a standard Mishima High School male school uniform, and goes in contrast with Ling Xiaoyu's extra outfit, which is the female version of the school uniform. Jin wears a dark blue, V-neck blazer, with the sleeves rolled up, and the school insignia on the left side of his chest. It is worn on top of a white, apparently short sleeved shirt which has its collar showing. His pants are green-ish with orange lines running through them, giving them a checker-like pattern, and he wears leather shoes. In addition, he wears his padded gloves. Note: This outfit is unlocked by playing as Jin Kazama fifty times and then selecting him with either the "Start" button or the "Triangle" button.
Player 1 Outfit: His Player 1 Outfit remains the same but, His gauntlets/footguards are now dark blue and his flames with a linear tint of jade to blue.
Player 2 Outfit: His gloves are dark blue and yellow jacket is red.
Player 3 Outfit: ( See Tekken 3 Player 1 Outfit. )
Player 4 Outfit: ( See Tekken 3 Player 2 Outfit. )
Player 5 Outfit: ( See Tekken 3 Player 3 Outfit. )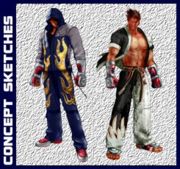 Player 1: With the new fighting style of Jin Kazama came also a new wardrobe. He gained a black and white karate gi where the pants seemed to be based on his past player one outfit. They have a black base with a large white flame on his left pant leg, as opposed to his old outfit's right pant leg. However, his right pant leg now also has a flame on it, the top of which barely reaches the knee. Additionally, Jin has a matching upper body gi, in a similar black and white color and motif, as well as a black belt with gold rims. He wears a pair of gauntlets with a new motif and color scheme as well as matching foot protectors. It should be noted that the new motif is the same motif Jun Kazama had on her third player outfit in Tekken Tag Tournament.
Player 2: His new 2P outfit is a navy blue hoodie and pants with gold flame designs. He wears red sneakers and a gray undershirt with this outfit along with his sparring gloves.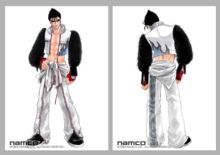 Player 1 Outfit: his gauntlets remain the same as the Tekken 4 1P Outfit, But his Flames go back to their old style, but white with a small flame design on his left leg.
Player 2 Outfit : ( see Tekken 4 Player 2 Outfit. )
Player 3 outfit: He got an extra outfit, which, like in Tekken 3, matches one of Ling Xiaoyu's extra outfits. The extra outfit mixes his personal theme, flames, with the overall costume theme of a panda. He wears a short, white, unzipped jacket that does not cover his full torso (the lower abs and back are revealed, even if zipped) with fluffy, black sleeves and a popped, rigid colar. The jacket has two chest pocket, each with a zipper, and the zipper of the jacket itself has a long, thin, red string or ribbon attached to it. On his back is a blue flame with an indigo trim that extend to the front left part of his jacket. He wears his shirt tied around his waist, and the white pants he wears have a zipper running through the front side of each pant leg, while his left one has a line-pattern the same colors as his flame on the backside. To complete the look, he sports black sneakers with white soles. The hoodie jacket was given a minor change in the desings.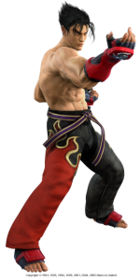 In Tekken 5: Dark Resurrection, Jin kept his "hooded jacket"-outfit, but took a step away from the gi outfit and color scheme that he had used in Tekken 4 and Tekken 5, and instead "went back to his roots". He wore an outfit extremely similar to the player one outfit he had worn in Tekken 3 and Tekken Tag Tournament, except that the flame on his right pant leg was now fully red (with default settings), instead of having a linear tint. Other difference to his old player one outfit include the small, red flame pattern on his left pant leg covering the outer side of his thigh, that he still wears the black belt from Tekken 4, and that the symbol from his gloves are also those of Tekken 4, despite their changed color scheme.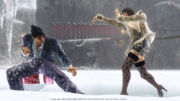 Player 1 Outfit: he gains an upgraded version his original black and red pants, as well as heavily upgraded armguards, from Tekken 3.
Player 2 : He gains a black trench coat/Dress Pants/shoes with a White shirt with a black pattern, this is only outfit not feature his gloves/gauntlets.
Using custom items, it is also possible to make a new version of his hooded outfit with a slightly different design than the one he wore in Tekken 4.
Player 3: Namco has also released a new "Clamp" outfit for Jin as a new alternate costume.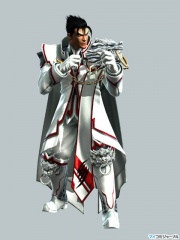 Player 1: (See Tekken 6 Player 1 Outfit.)
Player 2: (See Tekken 6 Player 2 Outfit.)
Player 3 :( See Tekken 6 CLAMP Outfit. )
Player 1 Outfit: ( See Tekken 6 Player 1 Outfit.)
Player 2: The same as his player 1 Outfit from Tekken 6 But, colored in The Tekken 5 Player 1 Colors.
Player 1 Outfit: ( See Tekken 6 Player 1 Outfit.)